By Danny Kushlick
"Recognizing that addiction to narcotic drugs constitutes a serious evil for the individual and is fraught with social and economic danger to mankind.
Conscious of their duty to prevent and combat this evil"
United Nations Single Convention on Narcotic Drugs 1961
"Recalling ... that the enjoyment of the highest attainable standard of health is one of the fundamental rights of every human being without distinction of race, religion, political belief, economic or social condition.
Determined to promote measures of tobacco control based on current and relevant scientific, technical and economic considerations"
WHO Framework Convention on Tobacco Control 2003
In the mid-90s I began working as a drug counsellor with clients on probation and in prison. In my first couple of weeks in the job a strong batch of heroin hit Bristol and five of our clients died in one week. Heroin users, accustomed to a less pure product, injected too much, overdosed, and died. An acute overdose like this (out of ignorance of toxicity) rarely happens with alcohol, because it's regulated and carries a purity guide. It's the equivalent of accidentally drinking spirits in the same quantity you might ordinarily drink beer. And, put quite simply, that is one major reason why we need to regulate any drug supply for which there is a high level of demand.
But drug control policies tend to be implemented at the extremes. Whilst for example, both alcohol and smokable nicotine are legally regulated, the level of regulation for those drugs is too low, and policy makers remain excessively under the influence of the respective industries. Both drugs are sold from newsagents - alcohol doesn't carry a health warning, an ingredients list or a calorie guide. Tobacco products are sold without a license or an ingredients list from inappropriate outlets. At the other end of the policy spectrum, production and supply of cannabis, heroin, cocaine, ecstasy and many more are gifted to organised criminals and unregulated dealers. Again, they are all sold without any information or quality assurance. The job of policy makers should be to aim toward the 'sweet spot' in the graphic below, where the level of public protection is highest, and harms are at their lowest.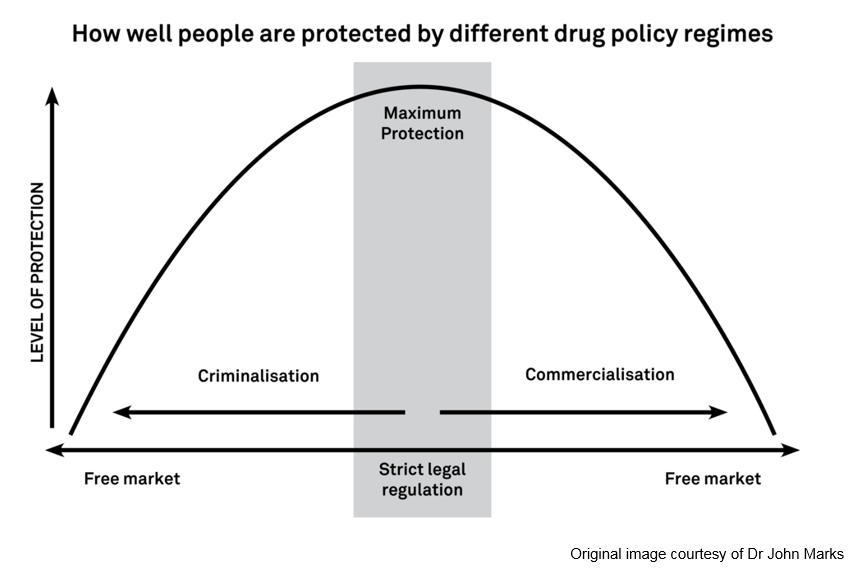 Worse though, people who use drugs that are prohibited are demonised to one degree or another - and in fact, that demonisation is literally written in to the UN drugs treaty. The preamble to the Single Convention on Drugs states that 'addiction' to the drugs included in the treaty constitutes a 'serious evil' (the inclusion of the term is a result of the influence of the Vatican at the UN, when the treaty was drafted). And it isn't a big step from defining 'addiction' as evil, to identifying people who use drugs as evil. Drugs identified for prohibition are often described as a 'scourge' and a 'menace', and it is all too easy to identify 'users' as the 'menace', as they so often are - treated somewhat akin to the threat of cancer or a virulent disease that requires elimination. And this is a big part of the reason that the deaths of over 3,500 people each year, mainly opiate users, are treated with such apparent disdain by policy makers across the political spectrum. That's ten deaths a day, 70 a week, 280 a month.
The Framework Convention on Tobacco Control (FCTC), on the other hand – and also held in place at the UN – is based on the right to health, not the demonisation of people who smoke tobacco. It is important to note that the FCTC was a belated attempt to fetter the worst tendencies of Big Tobacco, but its principles are fundamentally different to those of the Single Convention on Drugs.
And those principles play out very differently for those people from deprived and marginalised communities. Criminalisation, and the demonisation that accompanies it, serves only to further marginalise and exclude those who need to be included the most. In my work with people who were caught up in the criminal justice system (CJS), middle-class users were notably absent. The CJS is not even-handed when it comes to issues of class and inequality. The senior executives at HSBC who were responsible for the failure to notice the laundering of $881 million of Mexican drug money weren't even arrested, let alone charged, after a formal intervention from the then Chancellor, George Osborne, claiming that criminal proceedings could cause a "global financial disaster". The Old Boys' Network will not intervene for the tens of thousands of ordinary people who are prosecuted in the UK each year.
People from disadvantaged and from BAME communities, those who are street homeless, those who are already broken by a system that discriminates against them are the ones who bear the brunt of criminalisation. And it is up to those of us in the drug sector to stand up for those people who make use of our services. We must call out the cruel system that punishes those using drugs to relieve their personal pain and the impacts of social inequality.
That is why the Royal Society for Public Health called for the decriminalisation of people who use drugs in 2016. (It is worthy of note that the only flak that the Royal Society took in the media came from The Times, who, in their editorial, called on them to go further and legalise and regulate drug supply.) It is why Westminster Drugs Project, Blenheim CDP and Kaleidoscope have all taken organisational positions supporting reform.
There is now support for reform on Labour and Conservative back benches, while the Liberal Democrats and Green Party already support legal regulation of cannabis and decriminalisation of personal use of other drugs, and supporters of reform will be meeting MPs at a mass lobby of parliament on 25 June this year. Now is the time to call out a cruel policy that causes and exacerbates social exclusion and speak out for policy reform that supports inclusion and care for those who need it most.
This article was written for The Vision Project by Danny Kushlick. Danny is the founder of, and Head of External Affairs at, Transform Drug Policy Foundation. His experience as a drugs worker in the criminal justice system led him to set up Transform in the mid-90s to campaign for an end to prohibition.
DHI has invited the author to write the above article. The views and opinions expressed in this article are those of the author and do not necessarily reflect the views, opinions, policies or otherwise of DHI.

The Vision Project is DHI's way of marking its 20th anniversary, not by looking backwards but by looking forwards and seeks a range of diverse views to really inform this process and develop its services for all.

You can help us reduce drug related deaths by donating, volunteering or fundraising.